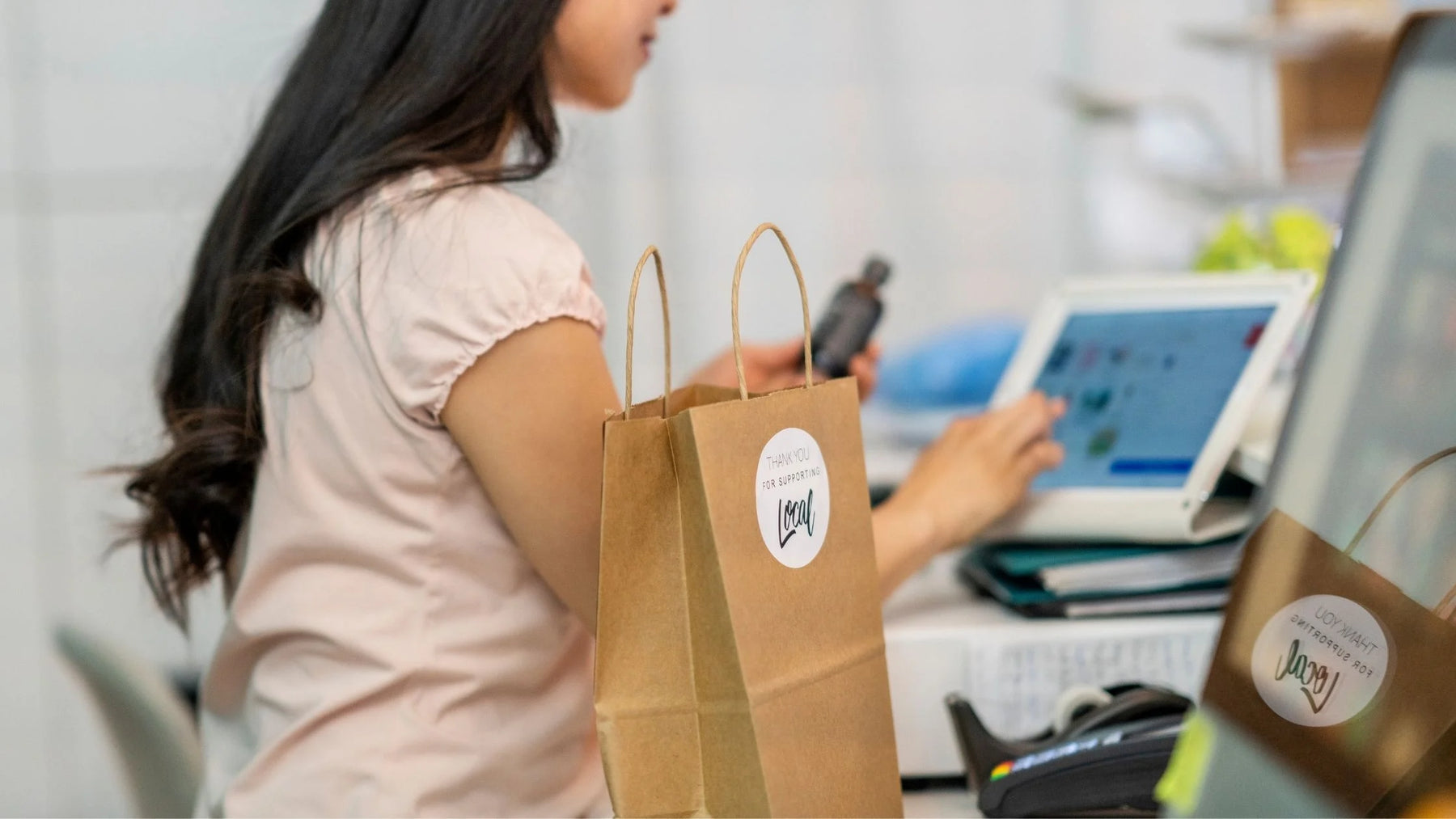 What Size of Thermal Printer Paper is Best for Retail?
It's paramount that you understand the right size of thermal printer paper for your printer as it is the first step towards the selection process. You can easily search on Google the model of your receipt printer if you don't know yet. You'll be able to get the exact products recommended for your receipt printer, including cleaning supplies, printer ribbons, paper rolls, etc.
If, for whatever reasons, you can't seem to find the information, we've compiled a helpful guide to enable you to understand the size of thermal printer paper rolls and how you can measure them. 
Usually, paper rolls are measured in four dimensions. These include:
Roll Length
Paper roll length is simply the amount of paper length that's contained in the roll. Even though the length isn't that vital for purchasing a paper roll, it plays a part in terms of duration – the longer the roll, the better! You will be eliminating the need for frequent replacement. For example, a roll that measures 80mm by 80mm has a length variation of 55 meters to 83 meters. It's crucial that you know the length of the paper roll that will be more efficient and useful to you. 
Roll Width
The most critical measurement when it comes to choosing the correct size of thermal printer paper roll is the width. Even a tiny mistake in terms of width measurements can cause a mismatch. The paper roll won't fit into the receipt printer. This measurement is taken from side to side across the paper roll's face. When taking a width measurement of a printed paper, ensure that you measure it from end to end instead of measuring the width of the printed text only. If possible, let the measurement be in millimeters for accuracy – keep in mind that any slight variation in size can cause serious problems. 
In the US, widths of thermal printer paper rolls are measured in inches. Widths of 2 1/4  and 3 1/8 inches are the most popular. Generally, most receipt printers can perfectly handle a roll width of 80mm, while credit card terminals can handle 57mm of width. 
Roll Diameter
To measure a paper roll diameter for your paper thermal printer, you need to measure across the roll's end while going through the core or center. It will help if the thermal paper roll is put on a standing position on its end on a plain and flat surface, avoiding it rolling over. 
Paper roll diameter dimensions can be anything from 20 millimeters to over 250 millimeters. Rolls that have big diameters also have more paper wounded in them. It's vital that you note the diameter size recommended for your receipt printer before measuring or buying a thermal paper roll. If you purchase a paper roll with a smaller or bigger diameter, it may not fit in your printing machine. 
The Core Size
The core size is defined as the diameter of a tube that holds the paper roll. 
Core Inside Diameter: Generally measuring 12.7mm, Core I.D is the core's center hole size. It's critical since some printing machines use spindles or pin holders to support the roll. So the core inside diameter should be able to fit the size of the spindle or pin to work correctly. 

Core Outside Diameter: This is the size of the complete core and hole. It's not as critical as the core I.D, but it's an integral part of the roll's diameter. 
You don't need to stress that much about the core diameter unless you have a terminal with a spindle that passes in the roll. Still, this measurement is used by some thermal paper suppliers. Nowadays, it's possible to find coreless till rolls that have no tubes. 
In summary, the paper roll size is usually described by:
Paper Roll Size = Diameter by Width by Core

Paper Roll Size = Length by Width by Core
What is the standard size for a thermal paper roll?
Except for a few exceptions, many terminals are compatible with standard thermal paper sizes. These sizes are as listed below:
Credit card terminals (Mobile or small): 57mm by 38mm, 57mm by 40mm, 57mm by 50mm

Thermal receipt printer: 80mm by 60mm, 80mm by 70mm, 80mm by 80mm
These measurements will help a great deal when choosing the right paper roll size, especially when you are unsure about the size you need. You can get in touch with us for more information or any questions regarding the size of the thermal printer paper.