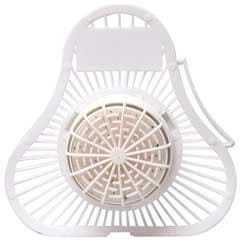 Parazyme Urinal Deordorizer 3 OZ Block & Screen Springtime (12ct)
Item #:
FRS-PP12-3USPB-S-F
Please be aware that this product is non-returnable.

PARAZYME 3 OZ BLOCK & SCREEN SPRINGTIME/DOZEN

Pliable screen traps debris and protects drain.
Enzymatic para block releases billions of beneficial bacteria to eliminate odors at the source.
Lasts up to 30 days.
Readily identifiable speckled block.
Please be advised that due to PARA restrictions, this product is not for sale in the following states: Massachusetts, California, Connecticut, Delaware, Maine, Maryland, Michigan, Pennsylvania, Rhode Island, New Jersey, New York and Ohio.