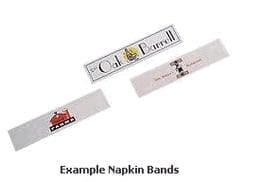 2-Color Custom Printed Paper Napkin Bands (for 6" x 1 1/2" Linen Napkins) - 20,000 bands/case
Orders ship within 6 - 8 weeks after receiving approved artwork.

Paper Napkin Bands for Linen Napkins with your Logo are available in quantities of 20,000!

No one else has a minimum that low.

Buy 20,000 custom printed napkin bands and you never pay set up charges with us!

Product Specification:
Manufactured from 50# Bleached White Kraft
Linen Napkins standard size is 1-1/2" X 6"


Choose a color for your Napkin Band and a Color for your logo to equal your 2 colors.

Standard Packaging of 2,500 per sleeve / 8 Sleeves per case.

All 2,500 count Sleeves are sealed in Plastic to protect against moisture & preserve adhesive.

Size:

Linen Napkin Self-Sealing Band 6" x 1-1/2".

Place your order on-line and email your artwork to support@pospaper.com or if you would prefer to talk to someone about your custom order call us at 877-469-7655.