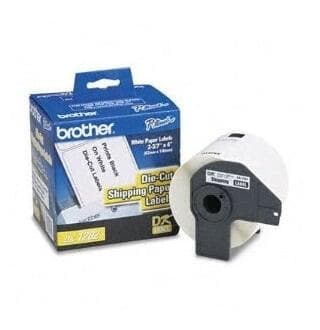 Brother DK-1202 Die-Cut Paper Shipping Labels for QL-500/QL-550
These die-cut paper shipping labels (300 count) are ideal for use with your Brother QL-500 and QL-550 labeling systems. Each label measures 2.4" by 3.9"(62mm x 100mm). One roll per box.


Identify and organize quickly and professionally. These labels are for use with Brother P-touch Label Printers QL-500, QL-550, QL-570, QL-650TD, QL-1050 and QL-1060N. Labels are made of Dura-Coated Paper. You can print them directly from Microsoft Word, Excel or Access with just a click. Or have fun and get creative using Brother's intuitive label design software. Labels come 300 per roll.